Pro II: The Stealthy Solution for Professional Anglers
The fine line between success and missed opportunities in fishing can sometimes be as subtle as the smallest ripple in the water. When every detail counts, the Pro II has your back.
Elevate Your Fishing Experience with the Power Pole Pro
Embrace the power of silence and precision with the Power-Pole Pro Series II. Whether you're maneuvering through fresh or salt water, this tool ensures you maintain your position at the top of the aquatic hierarchy. Built with the tenacity of a seasoned angler, the Pro II is not just sturdy – it's built to endure the toughest conditions.

Key Features: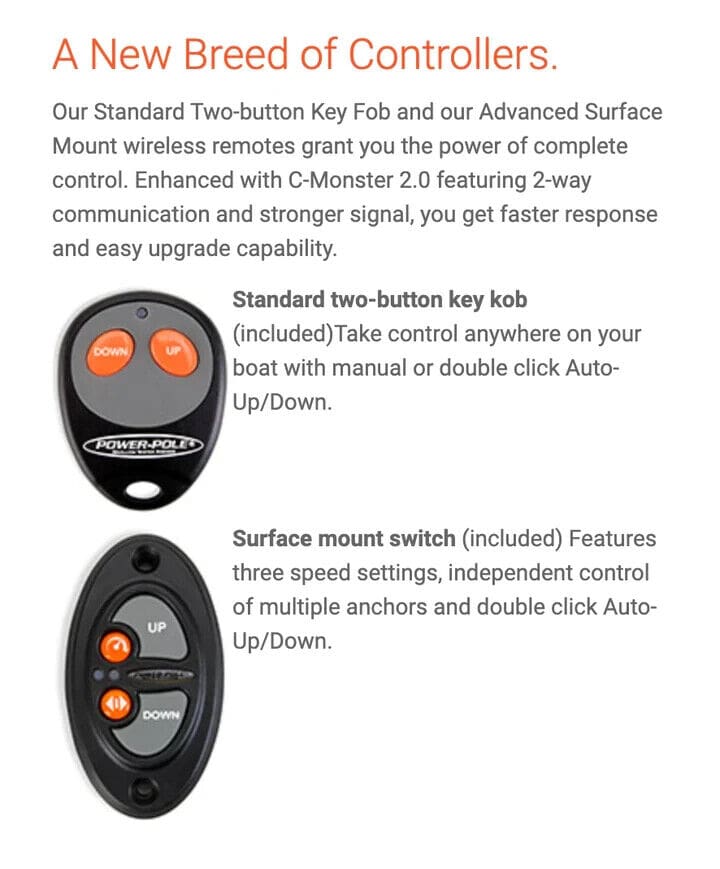 Ultra Lightweight Design: Allows for easy installation and ensures minimal impact on boat speed.
Powder Coated Finish: Provides an extra layer of protection against the elements and corrosion.
Down and Away Deployment: Ensures smooth and rapid anchoring, maximizing stealth and efficiency.
Drive-off Protection: Safeguards your investment against accidental damage during sudden boat movements.
Premium Inclusions:
Equip yourself with top of the line accessories that come standard with the Pro II:
2-button Key Fob Remote: Control your Power Pole Pro II effortlessly from a distance.
Advanced Dash Switch: For those who prefer a more hands on approach, switch and control with ease from your boat's dash.
New Hydraulic Pump (HPU): Boosts performance with a state of the art hydraulic pump system.
Heavy-duty Hydraulic Hose: Ensuring consistent pressure and longevity.
Bluetooth® Compatibility: Sync and control your Pro II with various smart devices for enhanced convenience.
Ready to take your fishing adventures to the next level? Dive into the Power Pole Pro II experience and witness the difference first hand.
Which Power Pole Shallow Water Anchor is right for you?