Marine GPS: Navigating the Seas with Confidence
Set sail with confidence and accuracy using marine GPS technology. This versatile tool helps you navigate the seas safely and efficiently, allowing you to focus on fishing, cruising, or any other on-water activity.
| Essential Components of Marine GPS | |
| --- | --- |
| Brands | Humminbird, Garmin, Simrad |
| Features | Chartplotter, Fishfinder |
| Technology | CHIRP |
| Upgrades | Map upgrades, additional charts |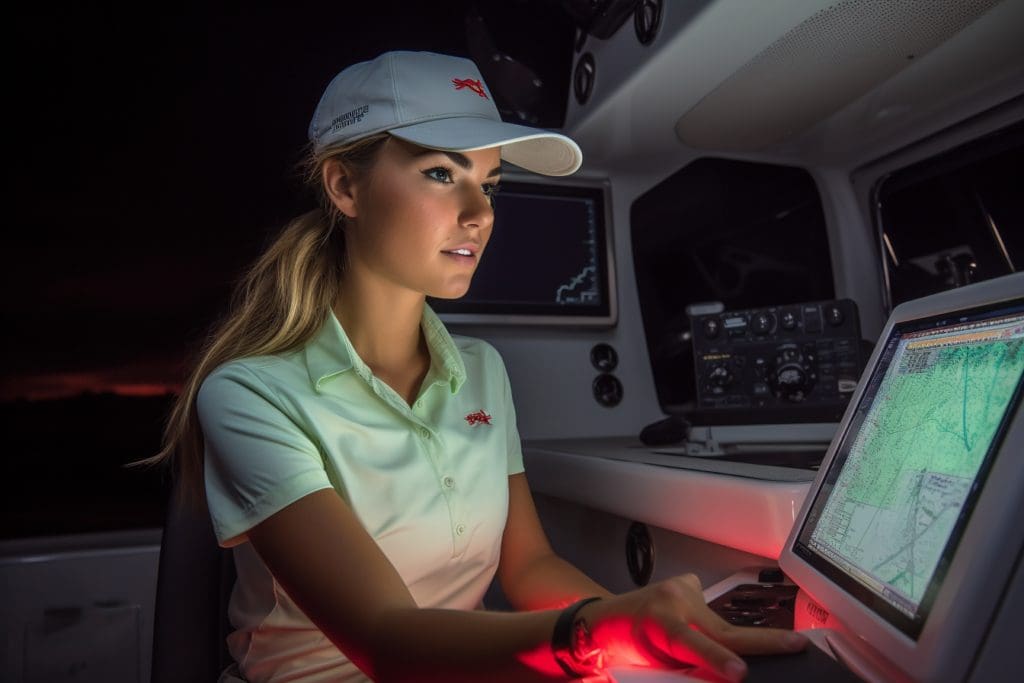 In addition to the essential components listed in the table above, marine GPS technology continually evolves with new features and upgrades. For example, CHIRP technology allows for more detailed fish imaging and identification. Additionally, map upgrades and additional charts let you explore and navigate uncharted territories with ease.
As a young boat salesman fresh out of Ireland, I recall one particular customer who was hesitant to invest in a quality marine GPS system. After showing him the benefits of having an accurate navigation tool on board his vessel during a demonstration ride around our local bay area, he went ahead and bought a top-of-the-line system that very day. Not only did he feel safer navigating through unfamiliar waters but also caught his biggest fish yet thanks to the device's advanced sonar capabilities.
Between Humminbird, Garmin, and Simrad, there's a marine GPS for every budget – unless your budget is a bag of chips and a can of soda.
Different Types of Marine GPS
To understand the different types of marine GPS and make an informed purchase, you need to know about Humminbird GPS, Garmin GPS, and Simrad GPS. This section in Bryan O'Carroll's article on Marine GPS basics covers these sub-sections to help you choose the right Chartplotter or Fishfinder based on CHIRP technology, map upgrades, and additional charts.
Humminbird GPS
A well-known manufacturer of marine GPS devices is Humminbird. Their line of marine GPS products is designed to fit a variety of needs, including fishing and navigation.
Below is a table showing the key details of some Humminbird GPS systems:
| Model | Display size | Screen type | Sonar feature |
| --- | --- | --- | --- |
| Helix 5 | 5 inches | Color LCD | DualBeam PLUS |
| Helix 7 | 7 inches | Color LED | CHIRP, Side Imaging |
| Solix 12 | 12 inches | Touchscreen | Mega Imaging |
One unique feature of the Solix 12 model is that it has a built-in Bluetooth receiver, allowing for easy connectivity with other devices.
It's worth noting that these specific models are just a small selection from Humminbird's extensive range of marine GPS systems.
According to boatingmag.com, "Humminbird consistently provides reliable and performance-driven marine electronics to enhance your outdoor experience."
Garmin GPS: guiding you through the deep blue sea, and reminding you just how lost you really are.
Garmin GPS
The advanced "Garmin Global Positioning System" is one of the modern marine GPS technologies. This system comes equipped with various features that can be utilized by professional mariners and boaters.
Feature
Description
Chartplotter
Displays geographic location, speed, depth, and other boat data on a screen.
Sonar Transducer
Detects underwater objects and provides information about the water temperature.
Radar Scanner
Uses radio waves to detect nearby vessels or objects even in low visibility conditions.
AIS
(Automatic Identification System)
Helps the navigator avoid collisions by displaying the position and movement of nearby ships.
Apart from these fascinating features, Garmin GPS is known for its high accuracy and reliability when it comes to navigation. The device is crucial for safe navigation as it enhances situational awareness and mitigates operational risks.
Interestingly, Garmin International Inc was founded in 1989 by Gary Burrell in Lenexa Kansas. Initially, it started by selling handheld GPS systems to US military although it eventually expanded its reach into other markets like aviation, automotive, sports & fitness, and outdoor recreation.
When it comes to finding your way on the high seas, trust Simrad GPS to steer you in the right direction (unless you're a pirate, then you're on your own).
Simrad GPS
Simrad marine GPS system is a cutting-edge technology that provides accurate and reliable navigation data for seafarers. The system comprises various types of devices that cater to specific needs.
| Device Type | Features |
| --- | --- |
| SonarHub Sounder | Sonar imaging, CHIRP technology, DownScan Imaging, Trackback feature. |
| NSS evo3S Chartplotter & Radar Systems | Advanced radar technologies, Clear Cruise™ AR view, C-MAP charts, WiFi connectivity. |
| HS70 GPS Compass | Accurate positioning even in challenging environments, pitch/roll/yaw compensation features. |
The Simrad GPS system offers an exclusive range of features for navigators. Its advanced sonar and chartplotter provide high-definition imaging, trackback feature, and C-MAP charts for increased accuracy in different sea levels and mapping requirements. Moreover, its HS70 GPS compass offers unmatched precision with added features like pitch/roll/yaw compensation.
Pro Tip: Regular software updates can maximize the performance of Simrad systems.
CHIRP technology in Marine GPS: making sure your fish-finding game is on point, because let's face it, soggy sandwiches are not a good consolation prize.
CHIRP Technology in Marine GPS
Using advanced sonar technology, marine GPS systems equipped with CHIRP (Compressed High-Intensity Radiated Pulse) technology produce highly detailed and accurate images of the underwater environment. These systems transmit a continuous range of frequencies, allowing for more precise identification of fish and structures under the water.
Brand
GPS Unit
CHIRP Technology
Humminbird
Helix 7 CHIRP MEGA SI GPS G3N
Yes
Garmin
ECHOMAP Ultra 126sv Fishfinder/Chartplotter Combo
Yes
Simrad
GO12 XSE Chartplotter Radar Bundle w/HALO20+ C-MAP Pro Chart – No TransducerSimrad GO12 XSE The Simrad GO12 XSE is a full-featured radar display with plug-and-play HALO solution & built-in Broadband Sounder Support. Includes C-MAP Pro with coastal navigation data all over Australia & NZ"
Yes
(but not all models)
Marine GPS units with CHIRP technology offer superior target separation, allowing for better identification and tracking of fish. These units also allow for map upgrades and additional chart options, providing users with access to the most up-to-date information on waterways.
Garmin's ECHOMAP Ultra 126sv Fishfinder/Chartplotter Combo gives anglers a clear view of what lies beneath the surface, including detailed contours of the bottom and structure. This unit also has built-in support for Ultra High-Definition scanning sonar and includes preloaded maps.
Did you know that Humminbird's Helix 7 CHIRP MEGA SI GPS G3N uses CHIRP Dual Spectrum sonar to display two ways at once? It allows anglers to see narrow or while in tandem mode which shows a wide-angle view.
My Chartplotter and Fishfinder are like my personal GPS assistants, except they never argue with me or tell me to turn off the music.
Chartplotter and Fishfinder
To understand the differences between chartplotters and fishfinders in your marine GPS system, consider the features each offers. The chartplotter provides maps and GPS location information, while the fishfinder focuses on locating fish using CHIRP technology. Upgrading maps and adding additional charts expands the capabilities of the chartplotter, while a fishfinder with advanced sonar allows for greater detail in detecting fish.
Features of Chartplotter
Chartplotter, a marine device that assists navigation on water, has remarkable features that aid boaters in finding their way home. Its multifunctional nature enables it to display electronic charts of lakes and coastal regions with extreme precision. In addition to this, it provides real-time monitoring and tracking services.
The following table highlights various features of Chartplotter:
Features of Chartplotter
Electronic Charts Display
Real-Time Monitoring
Tracking System
Furthermore, the Chartplotter can be connected to GPS alongside other sensors like depth finder, compass, and radar. This link provides an impressionable illustration by showing depths, distances reading, and radar images horizontally.
Did you know the first Chartplotter was invented in 1985 by Navico? The unit was called Lowrance HDS-1 and was built for recreational boats and fishing vessels. Today many affordable devices have been introduced into the market making it accessible for both commercial fleets and recreational boaters as well. Who needs a crystal ball when you can have a fishfinder that can predict where the big ones are hiding?
Features of Fishfinder
Fishfinders are versatile marine devices that are used to detect and identify fish, underwater vegetation and structure. They come equipped with several features that make them useful in various scenarios.
Sonar capabilities enable fishfinders to show the layout of the seabed and water column
GPS integration lets anglers mark their favorite fishing spots for future reference
Real-time data tracking keeps users informed about changing sea conditions.
These features make fishfinders essential equipment for both recreational and commercial fishing boats. However, these devices do not come without limitations.
Fishfinders can be limited by factors such as environmental conditions or user skill levels. Therefore, it is always advisable to consult an expert or seasoned angler before purchasing a device that will meet your specific needs.
Historically, Fishfinders have revolutionized the way fishing is approached today. They were first introduced commercially in 1948 and slowly evolved into handheld models during the 1950s. Since then, advances in sonar technology have led to smaller and more accurate fishfinder units available on the market today.
Upgrade your marine GPS with additional charts, because getting lost at sea is only fun if you're a pirate.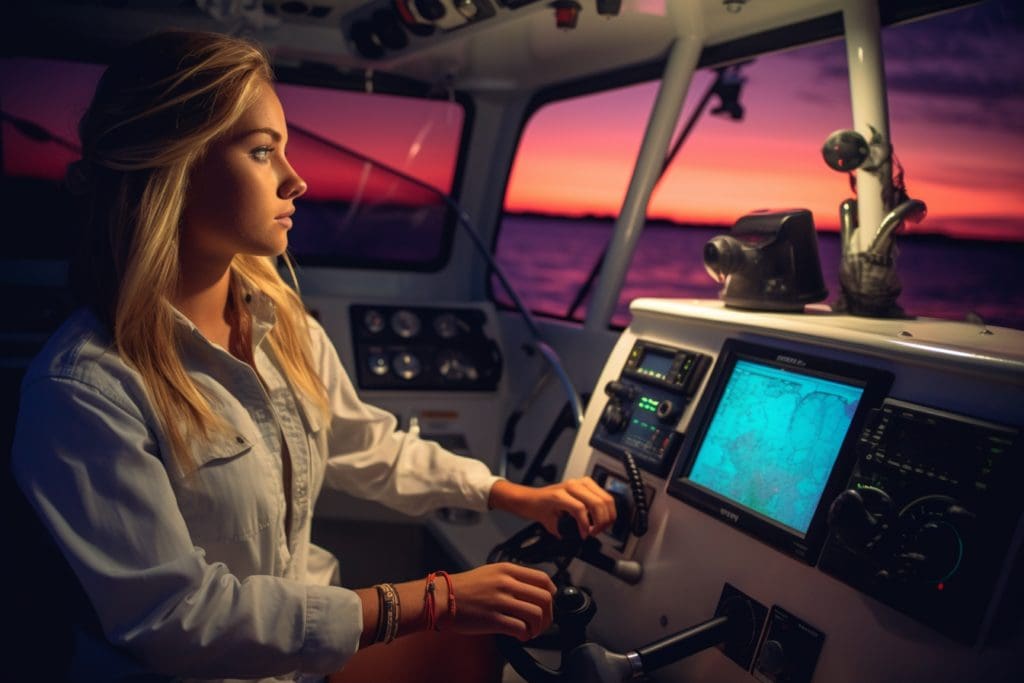 Map Upgrades and Additional Charts for Marine GPS.
For Marine GPS users, the availability of map upgrades and additional charts can make all the difference. Keeping your charts up-to-date is essential for safety and efficiency while out on the water. Fortunately, various marine GPS manufacturers offer different options to add depth and detail to your maps whether you have a Humminbird, Garmin, Simrad or other Chartplotter/Fishfinder device.
The following table displays some examples of popular GPS brands with their available chart upgrades:
| Brand | Upgrade Name | Coverage | Price |
| --- | --- | --- | --- |
| Humminbird | Autochart Live | Lake Maps | USD $199 |
| Garmin | BlueChart g3 | Coastal + Inland Waters | USD $149 |
| Simrad | C-MAP Precision Contour HD | Inland Waters | USD $299 |
While map upgrades add detailed information that wasn't previously available on the standard map package, it's also worth noting that additional charts may be necessary when boating in unfamiliar waters. For example, if you're planning a trip overseas or just want to explore further from your home port than usual, purchasing an additional chart may be necessary to navigate safely.
Beyond maps and charts, some GPS manufacturers are also offering CHIRP technology for even greater detail and accuracy on screen. This technology uses a more complex sonar waveform to provide sharper images of underwater structures as well as better target separation for finding fish.
Last summer I decided to take my new Sea Fox 288 boat across the Gulf of Mexico into Florida for some offshore fishing. Before we set off, I made sure to upgrade my Garmin GPS device with their BlueChart g3 offshore chart package which allowed me to see detailed bathymetric data on all offshore areas in great detail. The upgraded charts not only helped me reach my destination but provided detailed information about fishing spots and underwater topography which helped us have a successful and safe trip.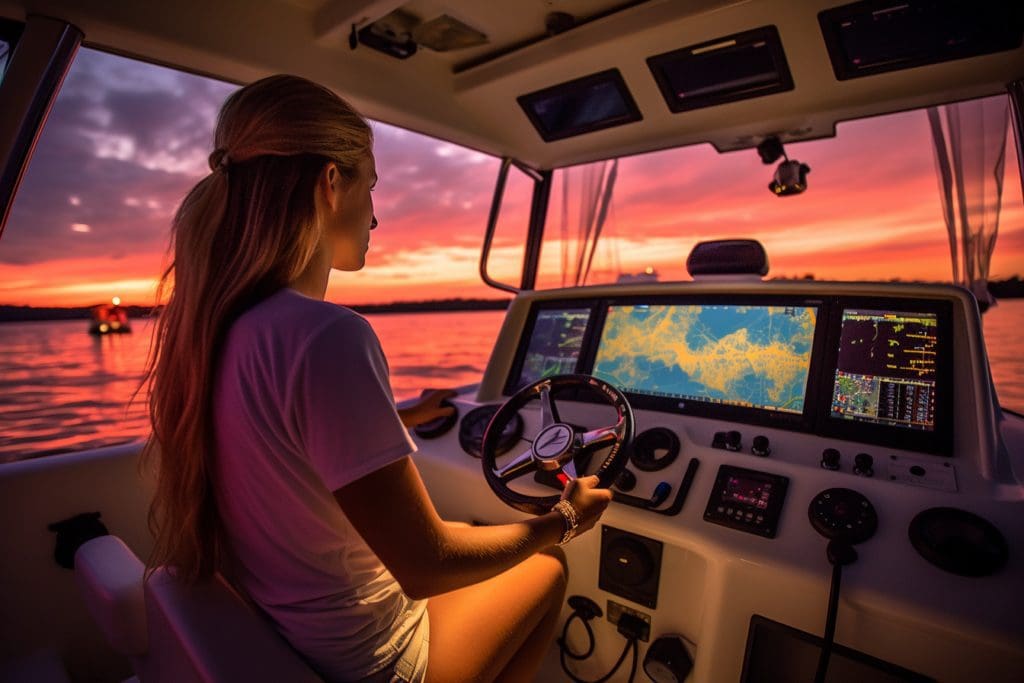 Frequently Asked Questions
Q: How does a Marine GPS work, and why is it essential for boaters?
A: Marine GPS uses a network of satellites to determine a boat's exact position, speed, and direction. It is a vital tool for boaters as it ensures safety, helps navigate waterways, and enables precise fishing location tracking.
Q: What are some popular brands of Marine GPS?
A: Some popular brands of Marine GPS include Humminbird, Garmin, and Simrad. Each brand has its unique features that cater to different boating needs.
Q: What is a Chartplotter, and how is it different from a Fishfinder?
A: A Chartplotter is a device that displays an electronic chart of the waterway being navigated. On the other hand, a Fishfinder displays real-time images of structures and fish underwater using sonar technology. While both devices serve different purposes, some models, like the Humminbird Helix series, combine the two technologies into one unit.
Q: What is CHIRP technology, and why is it important for fishing?
A: CHIRP stands for Compressed High-Intensity Radiated Pulse. It is a technology that uses multiple sonar frequencies to provide better and more detailed fish images, leading to more accurate fish location and identification.
Q: Can I upgrade the maps on my Marine GPS?
A: Yes, most Marine GPS brands offer map upgrades to keep the data up to date. Garmin and Humminbird, for instance, offer Quickdraw Contours, a free software that enables boaters to create their custom maps.
Q: Can I add additional charts to my Marine GPS?
A: Yes, most Marine GPS brands offer additional charts that boaters can purchase and install on their devices. These charts provide more detailed information such as the tides, current, and bottom contours.