Unveiling the Titan: Mercury's New Supercharged V8 500R Outboard
The Mercury 500R stood there all night like the coolest gal at the party. This lady had all eyes on all night at last week's release gala. Charleston, South Carolina, was all aglow as Mercury Racing unfurled its latest marvel last. The much-anticipated supercharged V8 500R outboard was revealed, leaving everyone with their jaws on the floor.
The Powerhouse Unveiled
This trailblazing 500hp V8 outboard is meticulously engineered for uncompromising owners of high-performance luxury sport boats. It's not just the raw power that's impressive, but also its myriad of components tailor-made to meet the rigorous demands of extreme-performance boating.
Coming on the heels of Mercury Marine's significant announcement in late 2022 about the innovative V10 Verado series, this new V8 supercharged 500R is set to offer more than just enhanced horsepower. It promises greater torque and top-tier performance.
The Mercury 500R is Setting New Standards
The 500R redifining outboard power density. Weighing a mere 720 pounds and capable of delivering more than 500 horsepower, it promises an incredible mid-range punch and relentless pulling power. Stuart Halley, Mercury Racing general manager, described it as "the most exhilarating production outboard ever to come out of the Mercury Racing shop".
Power Packed Performance
The new 500R has a whopping 50 more horsepower and 10 percent higher torque than the 450R model. Powered by a 4.6-liter 64-degree V8 Four-Stroke powerhead and made even more potent by an exclusive Mercury Racing supercharger.
Designed to function efficiently on pump fuel with a minimum 89-octane (95 RON) rating. The 500R features upgraded component designs. Located in the powerhead, cooling system, midsection, and steering system, allowing it to handle a whole new level of power. The new 5.9″ diameter gearcase is available in R-Drive and R-Drive Sport configurations. The gearcase effectively transfers the power to the water, delivering exceptional durability, handling characteristics, and cooling.
The Robust Core of the Mercury 500R
The heart of the 500R model is based on the same 4.6-liter V8 powerhead as the 450R model. However, it comes with several newly designed components to support its heightened power output. Including a stout new crankshaft and strengthened connecting rods, rod bearings, and pistons.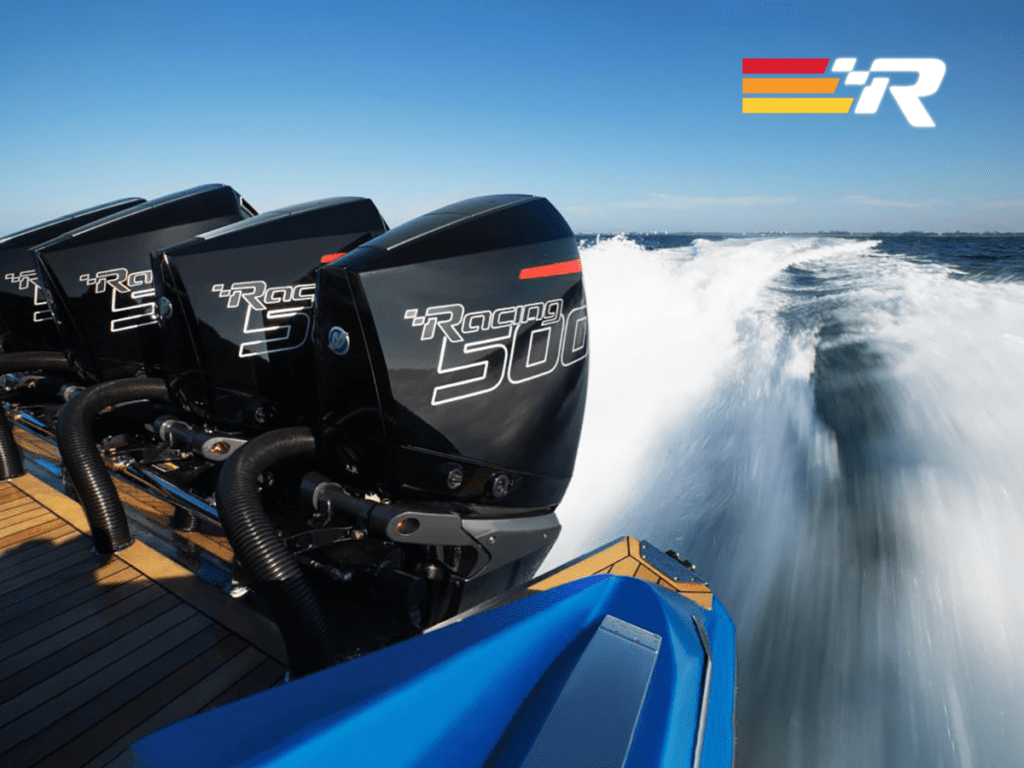 Unprecedented Innovation: Humidity Compensation
Mercury took bold steps to make this motor stand out and did what no one else had thought of yet. The 500R outboard comes equipped with a new sensor in the intake attenuator to measure incoming air's humidity level. This groundbreaking humidity compensation technology enables consistent performance in a broad range of atmospheric conditions.
The Cutting-edge Midsection: Advanced Racing Core
The 500R outboard is the first product from Mercury Racing to feature the exclusive Advanced Racing Core (ARC). The ARC is a new midsection that enhances durability and performance. The newly designed transom plate and enhanced trim system, precision-fitted heavy-duty guide plates, and stiffened engine mounts enhance high-speed handling.
Gear Up With R-Drive
Designed explicitly for the 500R outboard, R-Drive is available in two versions. One features a crescent leading edge and the other long aspect torpedo for high speeds. Both R-Drive versions benefit from larger, more robust shafts, and a newly designed intermediate spray plate that reduces drag.
Cutting-edge Tech For a Superior Boating Experience
The 500R model comes equipped with various Mercury Racing technology solutions. Including Digital Throttle and Shift (DTS) and Adaptive Speed Control. Technologies that enhance the boating experience and provide an easy and intuitive interface for the user.
Stylish and Powerful Mercury 500R
With three color options, Phantom Black, Cold Fusion White, and "ready for paint" in Phantom Black. You can match the 500R with your boat's color scheme or apply custom paint for a unique look. All options come with a three-year limited factory warranty. And the possibility of an extended factory warranty for up to five additional years.
When you need service for your Mercury outboards, you can trust the certified technicians at Black Label Marine Group. With three convenient locations in Ocala, Clearwater, and Punta Gorda, Florida, we're here to keep you running at full speed. Visit our Black Label Marine – Mercury Certified Service Techs for more information.
Frequently Asked Questions (FAQs):
How does the Mercury V8 500R compare to the previous 450R model?
The 500R delivers 50 more horsepower and 10 percent higher torque than the 450R model. It also features a series of upgraded components and new technologies, including a humidity sensor for consistent performance in various atmospheric conditions.
What makes the Mercury 500R so special?
Mercury Racing's V8 500R Outboard is unique for its supercharged 500hp engine, robust components, and a range of advanced technology solutions, like Humidity Compensation, designed to enhance the boating experience.
What is the Advanced Racing Core (ARC) featured in the 500R?
Black Label Marine Group offers servicing for Mercury outboards at our three locations in Ocala, Clearwater, and Punta Gorda, Florida. Our technicians are certified to work on Mercury outboards.
What is the R-Drive?
The R-Drive is a newly designed gearcase specifically for the 500R outboard. It comes in two versions and features a crescent leading edge and long aspect torpedo for high speeds.
Where can I get my Mercury V8 500R serviced?
Black Label Marine Group offers servicing for Mercury outboards at our three locations in Ocala, Clearwater, and Punta Gorda, Florida. Our technicians are certified to work on Mercury outboards.
How much does a Mercury 500R motor cost?
The final pricing has not been released as they are just coming to market, but with the 400R costing around $40k and the 450R costing around $50k, one could safely guess that…