Wave of the Future? Introducing the BRP Rotax S150 Outboard
The Rotax S150 Outboard… or some might even say "Underboard". In either case, there may be a sea change on the horizon for conventional outboard motor lovers. Dive in with us as we explore the innovative Rotax S150 outboard with "stealth technology," as BRP describes the hidden, quiet, and efficient direct-injection two stroke outboard available in 115- and 150-hp. This little beauty from BRP could be a game-changer for the industry; it's an outboard that's not quite an outboard. Intrigued? Let's get into it.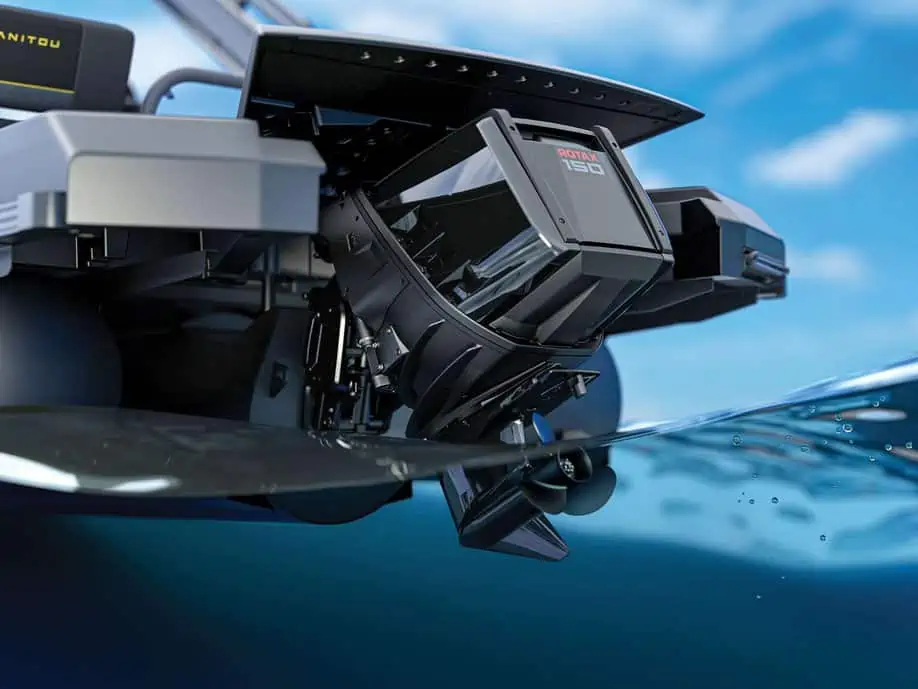 With the innovative MAX Deck transom platform designed around the new Rotax low-profile outboard, the hinged center section cleverly lifts as the engine tilts up. This guarantees that the complete outboard, including the lower unit, can be elevated above the water when docked.
Unveiling BRP: Behind the Acronym
Stepping into the annals of the Canadian industrial history, we find BRP Inc., the name proudly borne by Bombardier Recreational Products Inc. A renowned manufacturer hailing from the great North, BRP's portfolio spans an impressive range of snowmobiles, all-terrain vehicles, motorcycles, personal watercraft, and the likes.
Bombardier Inc.'s roots run deep, stretching back to 1942. It was born as L'Auto-Neige Bombardier Limitée, or Bombardier Snowmobile Limited, in the town of Valcourt in the Eastern Townships of Quebec. However, in 2003 the BRP division took on a new identity, becoming an independent entity spun-off and sold to investors. Fast-forward nearly two decades, the reborn BRP division would proudly introduce the innovative Rotax S-150 to the world.
Under-the-Platform Powerhouse
Say hello to the Rotax S150 from BRP. It's a discreet outboard powerhouse, neatly tucked away below your boat's extended swim platform. No more transom obstruction. You get all the power of an outboard without the eyesore. Housed within a watertight case, this horizontally orientated powerhead, packs a punch. Now, isn't that something?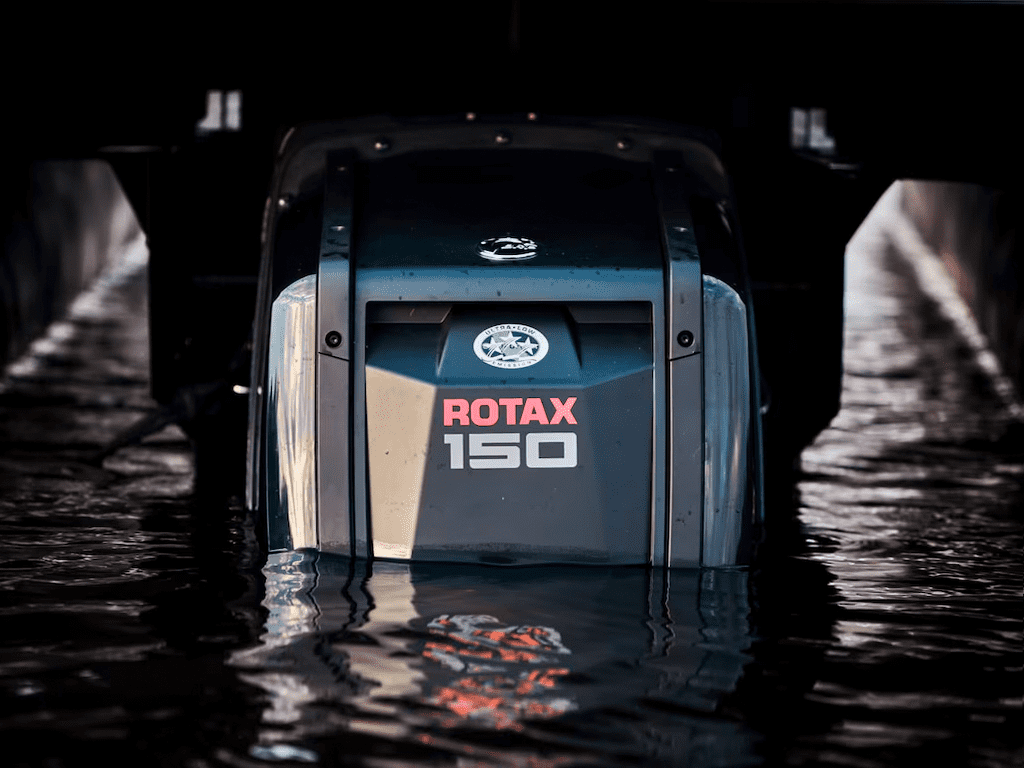 The Rotax S150 Outboard Specs
The Rotax S150 is all about robust performance. It shares a 1.9-liter three-cylinder, two-stroke powerhead with its 115 hp sibling, the Rotax S115. But the S150 has a little extra pep, thanks to variable exhaust ports. It's a true embodiment of BRP's genius engineering, leveraging E-Tec direct fuel injection, automatic trim, and a gear case with a 2.08-to-1 ratio.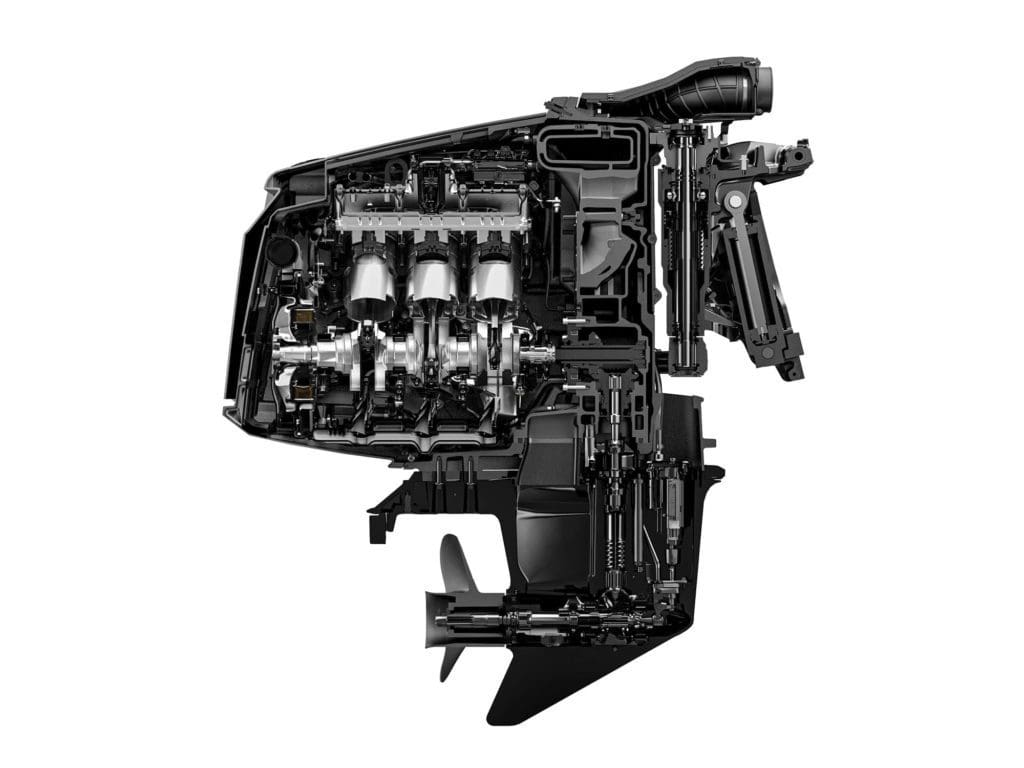 The sleek design of the Rotax outboard mitigates the conspicuous appearance typically associated with traditional outboards, courtesy of its horizontally arranged two-stroke engine. Photo credit: BRP
A Unique Outboard Experience
This Rotax outboard's unique design gives you more space to play around on your boat. It lives underwater, its cast-aluminum cover sealed tight with 15 bolts. Worried about maintenance? With the Rotax S150, scheduled powerhead maintenance only comes around every five years or after 500 hours.
Reliable Performance
BRP states that they have left no stone unturned in protecting the powerhead from moisture. Inside the case, a little probe detects condensation. If any is found, a small pump gets to work, expelling the water from the case. These smart features are meant to ensure you won't face any unexpected downtime due to internal water damage. Time will tell if the tech works as promised and I will be sure to write a follow up in a year or so once we have more data.
Outboard Service & Maintenance
When it comes to outboard service and maintenance, the Rotax S150 is a low-fuss option. It even has a "self-winterizing" function, an echo of past Evinrude models. This function oils down the cylinders, preparing your outboard for long-term storage.
The BRP Rotax S150: A Voyage Into Uncharted Waters, But I'm Not Onboard Yet
In the ever-evolving world of marine technology, it's essential to balance the allure of innovation with the comfort of proven reliability. While the Rotax S150 is undeniably a step into uncharted waters, a note of caution is certainly in order.
Yes, the S150 presents an intriguing proposition, a fresh approach to an age-old challenge. But let's remember the wise words, "if it ain't broke, don't fix it." There's a reason why traditional outboards have stood the test of time – they're reliable, practical, and easy to work on. This has undoubtedly contributed to their popularity amongst boating enthusiasts.
Given the novelty of the S150, it's fair to expect some teething problems. As with any new technology, there are bound to be some hiccups along the way, unforeseen challenges that may lead to a few headaches for the early adopters. This isn't to disparage the S150 but merely to suggest that patience could be a virtue in this instance.
Risky Buisness
For those with an adventurous spirit, surplus time, or spare funds, the S150 might prove to be an exciting endeavor. Yet for those seeking a dependable outboard motor with a solid track record, we recommend sticking to traditional outboards for now. In this case, it's safe to say, proven reliability trumps novelty.
An underboard like the S150, or as I've heard it coined during my research, is an interesting concept. But in the choice between the lesser of two unconventional choices, the inboard outboard and the "underboard", it's hard to decide which one would be less recommendable.
In conclusion, while the Rotax S150 introduces a unique perspective to outboard design, we suggest a measured approach. Let the early adopters navigate these uncharted waters first. After all, Rome wasn't built in a day, and a few years from now, this innovation might be the new standard. But until then, keeping with trusted and tested outboard technology is the safer bet for most.