Sailing into Uncharted Waters: Black Label Marine Group Unveils the Exquisite Caymas 34CT – A Voyage with Doug Mansfield
Author: Tom Ski
Adventure calls from the open sea, and we at Black Label Marine Group are ecstatic to be your first port of call. Witness the sensational journey as we deliver our inaugural Caymas 34CT to Doug Mansfield, a local legend and philanthropist from Sarasota, Florida. Buckle up, or should we say, "Anchors aweigh," as we navigate you through the making of this sea-dream-come-true.
A Sea of Firsts: Setting Sail with the Caymas 34CT
When Caymas Boats unveiled their 34CT Catamaran, they pledged to redefine nautical luxury and performance—and they have indeed delivered. What makes the first 34CT Catamaran to set sail from Black Label Marine Group's dock so special? It's the personalized touch and vision of an esteemed client from Sarasota, Florida, who turned this maritime marvel into a bespoke masterpiece.
Doug, a devout Caymas aficionado, had a crystal-clear vision for his 34CT. And let's just say, the end result is nothing short of a maritime masterpiece. Adorned with twin Mercury Verado 400 V-10 engines boasting 800HP of cold-fusion muscle, this nautical giant proves to be as powerful as it is luxurious.
"Caymas has truly outdone themselves," shares a visibly thrilled Doug Mansfield. "Black Label Marine Group's expertise was invaluable in bringing my 34CT vision to life. This boat isn't just a vessel; it's an extension of my lifestyle, finely tuned for both offshore fishing and family leisure. It's the epitome of opulence and functionality."
Color Me Impressed: Unveiling the Deepwater Blue Marvel
The Caymas 34CT doesn't merely sail; it glides through waters, its metallic Deepwater Blue hull shimmering like a sapphire beneath the sun. The interior takes a softer but equally stunning approach with a two-tone Sand Dune palette, weaving cream and chocolate brown hues into a comforting canvas. It's not just a boat; it's a nautical Van Gogh.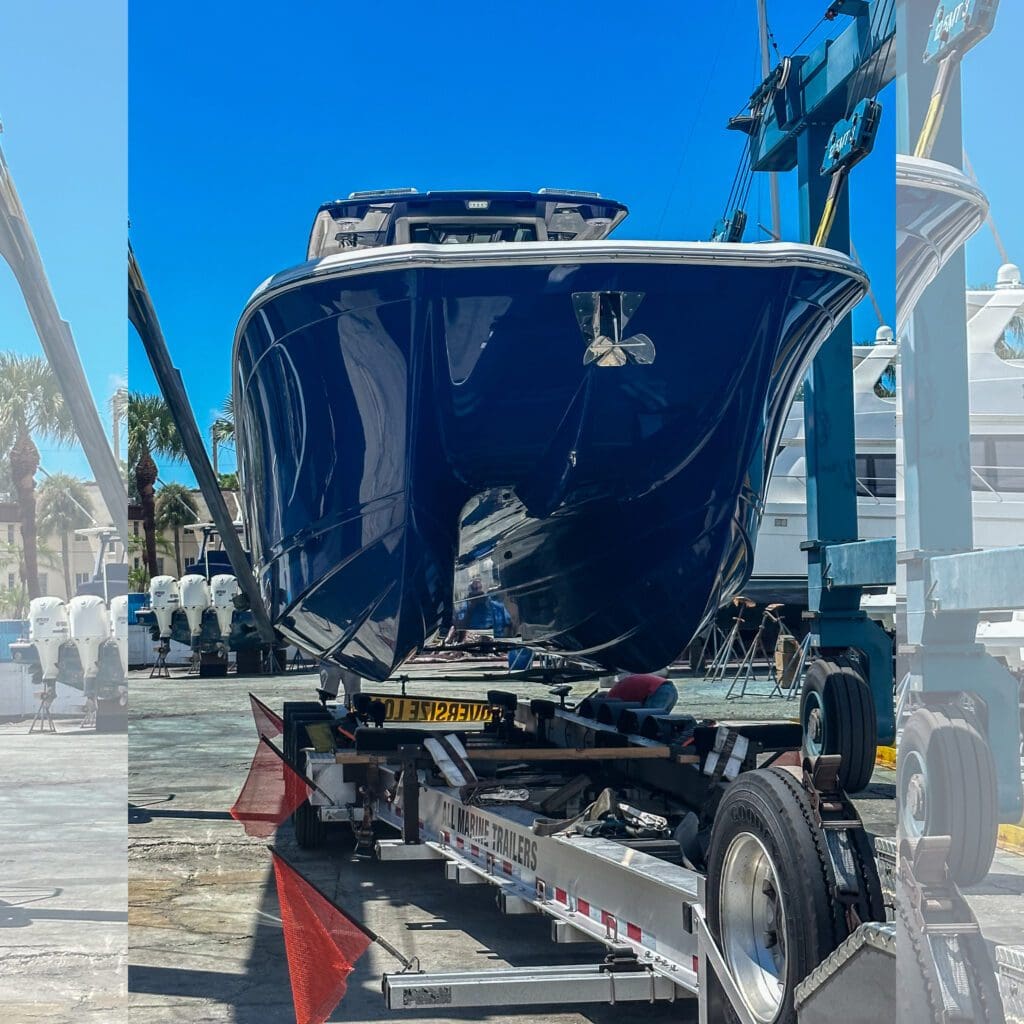 Power and Performance: A Symphony of Engineered Elegance
Did someone say horsepower? Try 800 of them. The Caymas 34CT is not just about surface-level beauty; it packs enough power to make Poseidon jealous. Twin Mercury Verado 400 V-10 engines ensure that Doug and family can chase the horizon as if they're riding sea stallions.
And let's not forget the Mercury Joystick Piloting, allowing 360-degree turns and easy docking, a personal favorite feature and one that Doug insisted upon. 
Optimized for the Ultimate Experience: Amenities Galore
Doug Mansfield elevated his aquatic sanctuary with details like Gemlux® Outrigger Bases, additional USB ports, and an enclosed head for extended offshore expeditions. But when it's time for lighter moments, the upgraded JL Audio system roars to life, setting the mood for family sing-alongs or solace-seeking sojourns.
Perhaps the pièce de résistance is the electric grill, complete with a Corian countertop. Catching fish is great, but cooking it right on board? Now that's a sea-to-table experience.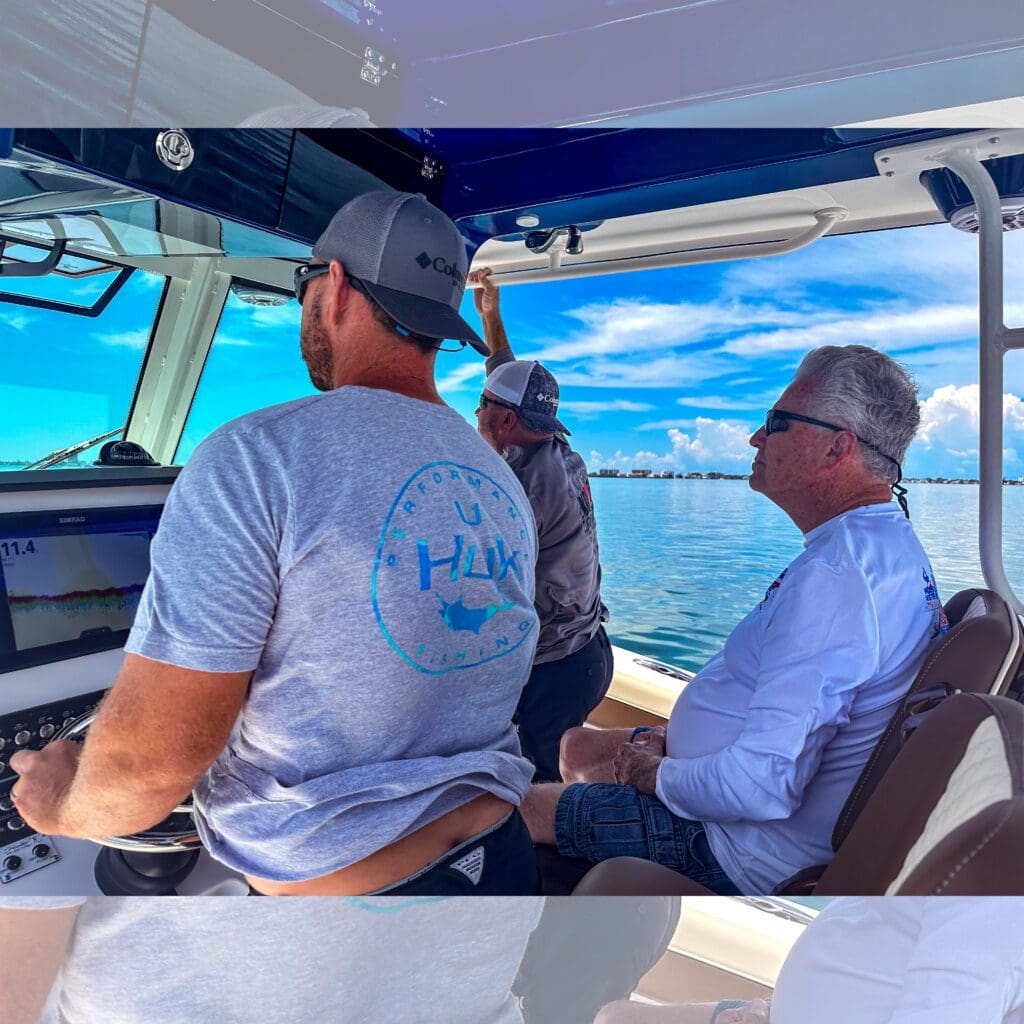 Beyond the Boat: Black Label Marine Group at Your Service
As Florida's largest and most reputable Caymas Boats dealer, we at Black Label Marine Group pride ourselves on our consultative approach. Whether it's Doug Mansfield's personalized 34CT or your future dreamboat, you can visit us at any of our three Florida locations or check out our online showroom.
The Verdict?
It's not just a boat; it's a lifestyle. With an MSRP of over $700,000 (a cool $723K to be exact), this vessel is a significant investment in unparalleled luxury and high-octane performance.
Are you ready to embark on your own voyage of opulence? Visit any of our three locations or explore our online showroom to experience the Caymas line of boats. Black Label Marine Group awaits to make your maritime dreams come true.
So there you have it, the magnum opus of offshore adventures – the Caymas 34CT, customized to the hilt by Doug Mansfield and brought to life by Black Label Marine Group. All aboard for the next wave of sea-dreams come true.
Wish to experience the Caymas 34CT yourself? Drop anchor at any of our Black Label Marine Group locations or navigate through our online showroom. Your oceanic oasis awaits. 
—

A Quick Glance at Caymas 34CT's Features

Standard Features
Construction and Boat Systems
– Ride Dynamic Ventilated Stepped (RDVS) Running Surface
– Hand Laid Fiberglass Construction with Foam Core
– Tri-Core Composite Transoms
– LED Interior Console Lights and Livewell Lights
Console/Helm
– Custom Frigid Rigid® Cooler with Electric Actuator
– Edson® Polished Stainless Comfort Grip Wheel with Tilt and Power Knob
Cockpit
– Stainless Steel lid Pistons on Floor Deck Hatches
– Self-Bailing Cockpit with Custom Stainless Steel Caymas Branded Cover Plate
– Under Gunnel Rod Storage
And the list goes on, encompassing everything from top-grade navigation systems to luxurious upholstery upgrades. In short, the 34CT is replete with features that define sophistication and efficiency.
Optional Premium Amenities
– Mercury Twin 400 Verado V-10 Cold Fusion 800HP
– Gemlux® Outrigger Bases and Poles
– Razor® LED Light Bars
– Sunbrella Horizon Upholstery Upgrade
– JL® Audio Upgrade Package
– Reverso® Engine Flush System
– Underwater Lights (2), LED, RGB
– Simrad Package: Extensive navigation and communication features
– Full Boat Cover
– Electric Reel Outlets (2)
– And many more, making this not just a boat, but a complete maritime experience.
—
We thank Doug Mansfield for allowing us to share the journey of crafting his dream Caymas 34CT. May your voyages be as splendid as your vessel.


—